GGT Footing - Dressage Blend
The GGT Dressage Blend is a combination of the Geo (multipurpose) blend and GGT Footing fiber. This unique blend is specifically engineered for Dressage. It keeps the surface fluffy, which helps avoid injury for horses and riders. If you're not sure which blend is appropriate for your arena, we offer free consultations and will help you decide. Every arena is different!
Benefits of Geo Basic include:
- Reduced dust
- High water storage capacity
- Higher slide strength and additional stability
- Prevents packing
- Extends the lifetime of your arena surface (up to 10 years)
- Balances the structure of your arena footing
- Makes the surface fluffy to avoid injuries of the equine legs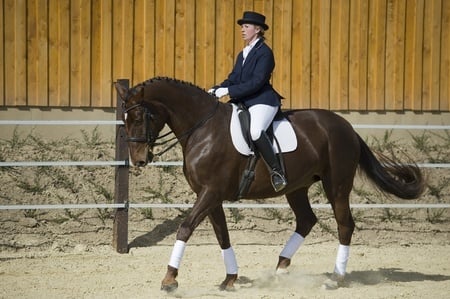 Dressage Footing is designed to maintain consistency and ensure the safety of riders and horses

The sand and GGT blend is customized for each arena, whether for basic riding, dressage, shows or performances.