GGT Footing - Geo Blend
The GGT Geo Blend is the most versatile footing blend available. This blend was designed with multi-purpose arenas in mind and is ideal for arenas which are used for multiple disciplines. If you're not sure which blend is appropriate for your arena, we offer free consultations and will help you decide. Every arena is different!
Benefits of Geo Basic include:
- Reduced dust
- High water storage capability to prevent drainage issues
- Optimal impact resistance
- Higher slide strength and additional stability
- Prevents packing
- Extended lifetime of your arena surface (up to 10 years)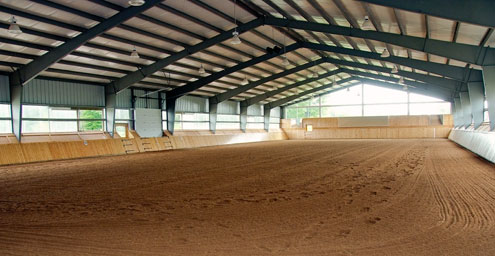 GGT Footing expertly installed by East-West Arena Construction (Official GGT Footing Distributor)

The synthetic polyester fibers do not rot or break down from exposure to heat or sunlight. Some mechanical wear does occur over time, but most surfaces last for at least ten years before requiring amendment.