GGT Stall-EZ
What is GGT Stall-EZ? It's a brand new seamless mat made by the makers of GGT Footing. This mat was developed specifically for use in horse stalls to greatly improve drainage. Made of permeable non-woven polyproplene material, this mat is durable but also very light-weight. Most rubber mats allow urine to puddle on the surface, causing the bedding to need to be replaced often. GGT Stall-EZ mats allow the urine to pass through the patt while still providing effective padding and stability for the horse.
Benefits of GGT Stall-EZ
- Reduces bedding requirements
- Saves time on stall cleaning and maintenance
- Saves money on bedding and labor
- Lighter weight and more durable than rubber mats
- Seamless, no interlocking mats
- Material has proven durability with 15+ years of use
- Ensures safety of horses and trainers by reducing slickness in stall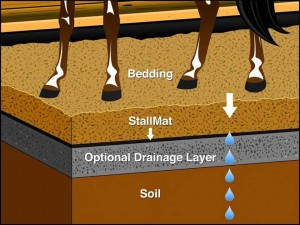 For more information on how GGT Stall-EZ can save you time and money, contact us!
By default, GGT Stall-EZ mats come 13 feet wide but varies by stall size. Please see below for recommended sizing based on your stall. The sizing below allow for 6 inches to be folded up on each side of the stall wall.
12 x 12 Stall order 13 feet
12 x 14 Stall order 15 feet
12 x 16 Stall order 17 feet
12 x 18 Stall order 19 feet
12 x 20 Stall order 21 feet
12 x 24 Stall order 25 feet
We can also cut custom sizes