What better setting for Centenary College and its Equestrian facility than surrounded by the Kittatinny Mountains in Hackettstown, New Jersey. The town is the home to Victorian homes over one century old, antique shops and charming bed and breakfast inns. The college fits right in with the Hackettstown community with an historic administration building in Victorian style.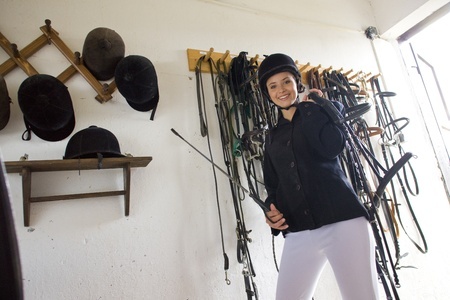 From this classic, Victorian setting comes state-of-the-art equestrian facilities that boast of indoor and outdoor arenas.
Equestrian Facilities and Teams Overview
From this classic, Victorian setting comes state-of-the-art equestrian facilities that boast of indoor and outdoor arenas, a hunt field, turnout fields, several heated barns and a locker shed. Centenary College's four riding teams, the American National Riding Commission Team, the Intercollegiate Dressage Association Team, the Intercollegiate Horse Show Association Team and the Hunter/Jumper Teampractice and perform on the safest arena footing for both riders and horses.
Centenary Equestrian Arena Descriptions
Upper Indoor Arena – This 196 foot by 86-foot indoor arena features the latest European Geotextile footing and silica sand mixture for superior drainage, dust control, traction, cushioning and ride stability. The EGT footing provides an arena surface that allows for maximum performance for riders and horses. The arena has convenient elevated viewing and a comfortable heated lounge for spectators. Wireless internet is also available.
USET Indoor Arena – This indoor arena is larger than the Upper Indoor Arena with an area of 220 feet by 100 feet covered with durable TravelLite footing, which is a non-slip blend of sand, fiber, rubber and wax for consistent and stable performances. It is a heated building with heated viewing lounges and an elevated booth for judges. The arena is attached to offices and classrooms and has food available. It has a handicapped ramp and wireless internet availability.
Outdoor Arena – The surface of Centenary 's outdoor arena consists of all weather footing installed throughout the 240 foot by 125 foot arena. The arena is lighted for use at night events and features stadium seating for a perfect view no matter where spectators sit. There is also an enclosed booth for judges and wireless internet connection.
Hunt Field – This is a natural grass field with cross-country fences. The nearby pond and fountain add to the field's scenic, country charm.
Turnout Fields – The college has turnout daily, as long as the weather cooperates. The horses are in groups or alone, depending on what is best for the horse. There are two grass fields, four paddocks and five individual turnout areas, one of which is a round pen. There is also a medical paddock. All have heated water troughs and shelters. The faculty always checks on the horses 24/7 all year long.
Contact us at East-West Arena Construction for information on the best GGT footing or arena design for your equestrian facilities.
Download our free eBook: "Top 5 Collegiate Equestrian Programs"