Mount Holyoke College is located in the scenic Pioneer Valley in South Hadley, Massachusetts. This incredible western MA town features a breathtaking view of the Connecticut River and Bare Mountain, a prominent peak of the Holyoke Mountain range. When you add the Mount Holyoke College Equestrian Center, one of the top competitive equestrian facilities anywhere, to this gorgeous town, you have every girl's dream college. Mount Holyoke is a girl's college that offers an unrivaled education, along with championship riding teams.
About Mount Holyoke College Equestrian Teams – the Lyons
The riding team competes in the Intercollegiate Horse Show Association National Championships on a regular basis. In both 2000 and 2006, the riding team won National titles and in 2005 and 2007 earned Reserve Championships.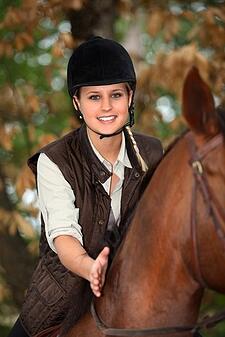 Caption: Mount Holyoke is a girl's college that offers an unrivaled education, along with championship riding teams.
The dressage team also made the college proud with three National Championships from theIntercollegiate Dressage Association. On top of these championships, the dressage team also won regional and individual awards. The most recent award earned by the dressage team was on April 27, 2013 when they placed first in the IDA National Championship title, out riding Johnson & Wales University who took second. With this win, Mount Holyoke Equestrian Dressage Team has won more IDA championships than any other college in the league.
Mount Holyoke was the first and only small college in the region to establish an IHSA western riding team. Students learn sportsmanship, teamwork and leadership as they compete in western riding.
In 2002, Mount Holyoke established an Interscholastic Equestrian Association team, which assists middle school and high school students that want to improve their riding skills for competition.
Mount Holyoke College Equestrian Facilities
The success of Mount Holyoke's equestrian teams has a lot to do with the school's superior riding facilities. The school's outdoor arena features all-weather footing, which offers the safest and best performance surface for riders and horses. High-quality arena footing withstands maximum hoof action, impact and traction, especially for Western riding and jumping.
Mount Holyoke also provides two indoor arenas, a dressage arena and turnout paddocks to their equestrian teams. The school's 120 acres of woodland, fields and natural streams also offer riders the chance to ride a cross-country course, enjoying nature and their horses in a natural environment.
The college also has a stable with over 69 stalls with rubber mats installed, which provides cushioning and dust prevention for the comfort of the horses.
Contact us at East-West Arena Construction for a free consultation on the best arena footing, design and constuction for your equestrian facilities.
Download our free eBook: "Top 5 Collegiate Equestrian Programs"