Though it may not seem like a big deal, dust in arenas can have many negative impacts on health, performance, and overall look of your arena. Read on to find out why you should consider a low dust footing.
Health Effects
High concentrations of dust exposure for long periods of time can have negative effects on both human and equine health. Prolonged dusty conditions can contribute to serious conditions such as;
Asthma
Heaves
Chronic Bronchitis
Reduces Infection Fighting
Pneumonia
Minor irritation of the throat, lungs, eyes, and nasal passages can also occur.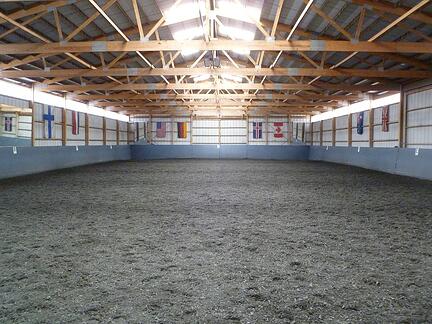 Lowered Performance
In a highly dust saturated environment, in air oxygen levels are greatly reduced. This is bad news for a dusty arena, as studies show that horses need thirty times more oxygen during training or performance as opposed to their needs when at rest. Controlling dust in your arena can prolong the health and well being of your horses by ensuring they get the proper amount of oxygen.
Geo Basic Footing Blend
GGT Footing can be used effectively in most arena environments such as for barrel racing, riding and training arenas, roping arenas, and other types of equine arenas. Our footing blend can offer;
Reduced Airborne Dust
High Water Storage Capability
Optimal Impact Resistance
Prevents Packing
Higher Slide Strength
Additional Stability
In addition, our footing blend can extend the lifetime of your arena surface for up to ten years. If you would like to know more about our uniqie footing blend for your horse arena, feel free to contact us