When sharing a warm-up arena for group riding lessons, testing or show situations, following 5 tips for equestrian arena etiquette is essential for the safety of riders and horses. Each venue has its own rules and regulations but following basic arena etiquette goes a long way to eliminate riding stress. Knowing what is acceptable in the arena and acting in a courteous manner will bring credit to you and equestrian sports.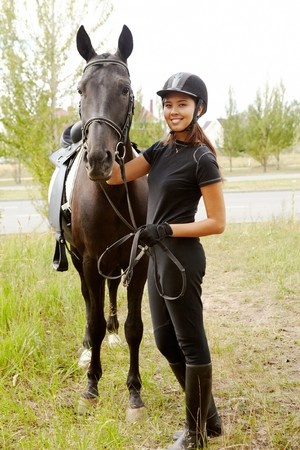 Caption: Knowing what is acceptable in the arena and acting in a courteous manner will bring credit to you and equestrian sports.
Five tips of Equestrian Arena Etiquette for Experienced and Novice Equestrians
Entering the Arena – Before entering the arena, check the stirrups and girth. Mount your horse before entering the arena and avoid dismounting on the arena track. If you must dismount, ride out of the arena or into the center. When entering the arena be aware of your surroundings and avoid cutting in front of another rider.
Riding in the Arena - Begin riding your horse in the same direction as the other riders in the ring. If you're walking your horse, stay in the inside track of the arena. The outside track is for riders performing faster gaits. Always stay one horse length behind the rider in front of you.
Passing Another Horse - If you're passing another rider, pass on the inside with plenty of space between the horses. You can also take a circle or ride across the arena to avoid having to pass close to another horse. Any halts should be done in the center of the ring. The standard international rule for passing in opposite directions is left shoulder to left shoulder.
Right of Way – Any riders doing lateral work have the right of way. If you're riding on a circle, give way to the riders using the outside track. Both experienced and novice riders can use the warm-up arena, so avoid using a loud voice and be careful with your whip, so other horses do not become agitated. If a collision seems imminent, always give way, even if you are in the correct position.
Horse Behavior – If your horse becomes unruly,ride to the edge of the arena to avoid upsetting the other horses. When another horse is agitated, try to keep away from him. If you do need to ride near the agitated horse, do so as quietly as possible.
Not only is arena etiquette an important safety factor for the warm-up arena but quality footing is essential for a stable arena track. Contact us at East-West Arena Construction for track arena footing that meets your needs.