Equestrian/Equine Studies are offered at many colleges and universities around the nation. The curriculums are similar and most programs support a competitive equestrian riding team. Each university stands proud of their equine program not only for the academic value but the learning and training facility they offer their students and the riding program where teams compete in many regional and national horse shows sponsored by The Intercollegiate Dressage Association (IDA) and The Intercollegiate Horse Show Association (IHSA). Many universities use boarding and training facilities out in their communities while others have acquired or built their own equine centers on campus or in close proximity.
While all colleges and universities deserve recognition for their outstanding equine programs and training facilities, this article will touch on just a few of the top university equestrian arenas.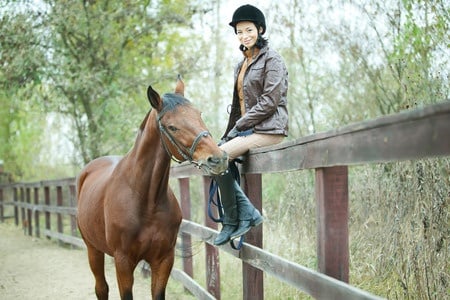 Stanford University-Stanford, CA
The Stanford Red Barn is home to the Stanford Intercollegiate Riding & Equestrian Team. Its show arena is 120 ft x 260 ft in size and suitable for competition dressage and show jumping. There are also two covered, lighted arenas each measuring 110 ft x 220 ft. All three arenas have GGT footing.
University of Georgia-Athens, GA
Georgia riders have their own UGA Equestrian Complex just 12 miles from campus. It is a 109-acre farm formerly known as High Point Farm. They use the existing facilities which used to train the U.S. Dressage Olympic team and with ongoing improvements the school will develop the property to suit the needs of their Equestrian program.
University of Tennessee-Knoxville, TN
Their Horse Science Center is state-of-the-art facility. It has a heated barn, climate-controlled stalls and an enclosed 105 ft x 230 ft teaching arena. In addition, it has an outdoor arena and a jump course.
University of New Hampshire-Durham, NH
Their riding facilities include a USEA-recognized, cross-country training course, three regulation-size dressage competition arenas, a lighted outdoor riding arena (174 ft x 78 ft) and the infamous W.C. Skoglund indoor riding arena (160 ft x 90 ft).
West Texas A&M University-Canyon, TX
West Texas A&M University Horse Center is home to the highly competitive women's equestrian team. The horse center is on 80 acres just north of campus. It features a 200 ft x 105 ft indoor arena and two lighted outdoor arenas.
Cal Poly State University-San Luis Obispo, CA
At Cal Poly, the Animal Science Department has an equine center with the popular Hadley Arena: it is a 125 ft x 250 ft rectangular arena. They also have a 150 ft diameter circular arena with solid sides and deep footing
Everyone in the equine industry understands safety for both rider and horse. Since each university has a riding team and an opportunity to host an intercollegiate horse show, they strive to provide only the best facilities. In the design and building of an arena, the "footing" is notably the number one cause of injury. East-West Arena Construction are the experts when it comes to footing. They are the region's GGT footing installers. Contact us for more information on all our services.