Whether you are a beginner rider, aspiring Olympian, pleasure rider, or experienced professional, flatwork or "dressage" can benefit both you and your equine partner. Dressage helps to foster clear communication between horse and rider, as well as rhythm, softness, suppleness, and balance. It can help to provide a basic foundation for many riding disciplines.
Though you can practice dressage in many different arenas, dressage arena size is an important consideration, especially if your goal is to compete in dressage or eventing, which includes dressage as one of its three phases. There are two sizes of dressage arenas: small arena and standard arena. The short dressage arena measures 20m x 40m (or approximately 66 ft. x 132 ft). It is commonly used for the lower levels in the dressage phase of eventing. The standard arena is 20m X 60m (66x197 ft) and is used for the upper levels in eventing as well as pure dressage competition. Both arenas have letters outside the perimeter fence of the arena that mark where specific movements are to be performed in the arena and give the rider a frame of reference for "schooling", or practicing movements.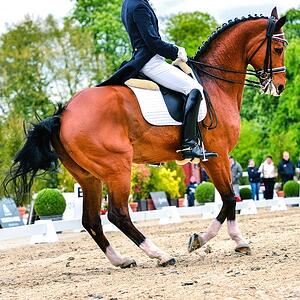 When building your dressage arena, it is important to consider your individual situation and needs. Do you want a permanent or portable arena? Can you use and improve your existing arena? What type of footing will be best for you? We are experts in arena construction of all types. Contact us for more information on building and surfacing the perfect arena for you and your horse.