Every aspect of an Equestrian program requires an investment of capital, planning and expertise. The most crucial aspect is specifically in the arena. Equestrian arena construction and consulting requires a broad breadth of experience and knowledge, yet also the capacity to focus on the impact of the local area and specific program for which it is being constructed.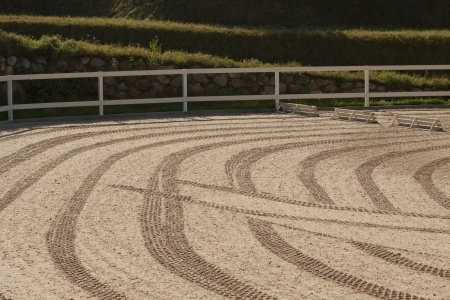 There are many variables to arena construction. Making it more difficult is that "there are no universal recommendations". Every project plan needs to be specific to the intended use of the arena, the site location and terrain specifics. Issues such as water run-off and footing will also set the stage for the maintenance plan to follow.
College Dressage program, advanced competition or multiple application? This single question drives the site location, footing design and overall arena layout.
Does your site location enable water management? Is water accessible? Is natural runoff a reality? Water is both necessary and problematic. As a controlled resource, water is necessary for maintenance of your arena making access an important aspect of the plan. As an act of nature, your location's rainfall predictions coupled with terrain make site selection critical to the long term health of your arena.
Footing design is clearly the most critical and here there are more choices within a program Director's control than may be within his or her expertise. If strictly cost driven, you may believe in a sand based recipe of locally available natural products without considering the suitability or cost effectiveness of a manufactured product such as German Geo Textile (GGT).
The expertise and experience of your arena consultant will provide the balance between your available investment and the goals of your program to build the best arena possible. Contact us for more details.