GGT, which stands for German Geo Textile is a versatile arena footing, which combines shredded textile fibers mixed with sand for the best possible cushioning, traction and ride stability for equestrian arenas.GGT footing offers a safe, supportive base for all types of equestrian arenas.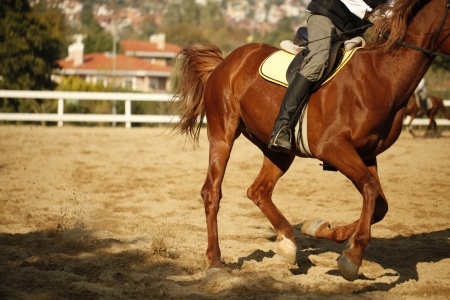 Renovating an equestrian arena with GGT footing not only cuts down on the health hazards from muddy arenas but also provides a highly suitable riding arena for dressage, jumping and Western riding.
Benefits of GGT Footing
The blend of sand and GGT offers superior cushioning, preventing injuries to the horse's joints.
The optimum GGT footing blends helps prevent muscle fatigue in the horse, which often occurs is sand arenas.
The sand and GGT ratio stands up to the impact of the horse's hoof action and prevents compacting of the arena surface.
GGT naturally retains moisture; making is one of the best arena surfaces for dust control. The reduction of dust also lessens the amount of watering the arena needs.
The life of the arena surface is extended by 10 years when using GGT footing even with maximum horse traffic.
GGT Blends for All Equestrian Arenas
Not only is GGT footing used in International horse shows but is suited for all equestrian events. The amount of sand added to the GGT depends on the driving activity and the impact of the horse's hoof on the arena. For example in Western riding when the horse is driven around the barrels or cutting a hard-turning cow. When using GGT for jumping, an optimum amount of sand is blended for a strong jump and safe, sure-footed landing. The sand and GGT blend is personally customized for any type of arena, whether for basic riding, dressage, horse shows and performance arenas.
Contact us for a free evaluation to determine which GGT footing blend is best suited for your equestrian needs.