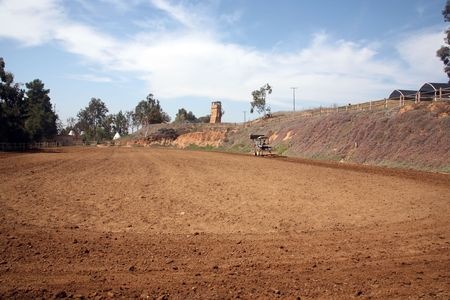 If you're planning on a new arena or renovating an old, there is no set answer to this question. Several factors go into how long it takes to construct and equestrian arena for your facility. Each arena construction design needs customized planning that involves weather conditions, arena dimensions, arena footing material, ventilation, site preparation and drainage conditions.
Size of the Arena
The time it takes to design and construct the arena depends upon whether your facility needs a small or standard dressage arena. If your facility hosts professional dressage or jumping events, a standard arena is probably needed. Small arenas are a good size for warm-ups before a professional event or for training. Small dressage arena dimensions are 20-meters wide by 40-meters long, while standard dressage arena dimensions are 20-meters wide by 60-meters long.
Surface Preparation and Weather Conditions
The time spent on the arena's surface preparation depends on the size of the arena, the condition of the site and weather conditions that affect the arena drainage. Arena construction specialists grade the site for the size of the arena, adapting it for the best drainage for the weather conditions and groundwater in your area. The time it takes to grade the arena site also depend on if it is an indoor or outdoor arena. Weather conditions play a large role in the drainage design for outdoor arenas. The arena base preparation, which exists under the footing material, is critical for the longevity and stability of the arena.
Arena Footing Materials
Arena construction specialists can recommend a high-quality footing material for the equestrian arena, depending on whether it is used for dressage, jumping, Western riding or training. Each type of riding requires footing that offers cushioning to minimize the pressure on horse's joints, especially if they are jumpers. Quality footing reduces abrasion to hooves and supplies adequate traction for performance horses. Arena footing, such as GGT footing offers superior water absorption, resists freezing and provides a clean, safe surface that reduces dust and mud. When contracting for a new arena, consult with the arena specialist for the best footing material for your arena.
Arena Ventilation
Air quality and ventilation are important for all indoor equestrian arenas. The respiratory health of riders and horses depend on adequate ventilation to cut down on dust inhalation. Arena construction professionals consider weather when designing natural, effective ventilation. There should be enough ventilation to keep air circulating in hot weather, making riders and horses more comfortable for optimum performance. Doors, windows and roof types are considered when designing ventilation for indoor dressage arenas.
Contact us for a free consultation about how long it would take to construct your arena. Our professionals at East-West Arena Construction will customize an arena for your facility that adapts to your specific weather conditions, site condition and the arena size you need for your riding events.