Dragging an arena is an important part of arena maintenance. Dragging is intended to fluff up any areas of compacted footing and make the footing conditions uniform across the entire arena. Everyone seems to ride in the same places in a ring- for example, the packed-down track around the outside is a common sight. Dragging restores the footing to its ideal state.
Drags
The most common, and most versatile, arena drag is a tine harrow. It looks like bit of chain-link fence. Dragged behind a tractor or an ATV it can quickly and easily restore a hunter/jumper or all-purpose arena to a pristine state. An arena rake is a similar device that looks kind of like a giant comb.
Fancier grooming devices such as arena harrows have spinning wheels with teeth that fluff up the footing and then smooth it back down. Sometimes people try to use disc harrows or box blades (implements intended for construction and/or farming) to groom their arenas. These devices tend to destroy the footing- they can rip down into the base and leave the arena looking like a field of sand dunes. Harrows used for certain types of Western riding (barrel racing, reining) can also damage all-purpose equestrian footing because they can rip up the arena base.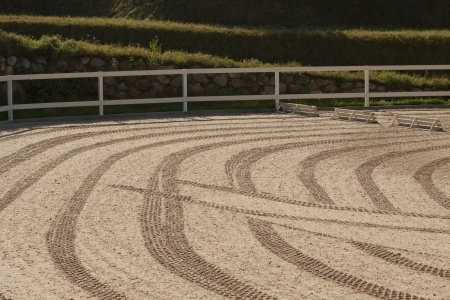 How Often
An arena should be dragged as soon as any of ruts or holes appear. How frequently an arena needs to be dragged depends primarily on how many horses work on it. A personal arena that has one or two horses work per day may only need to be dragged once a week. A busy lesson barn's arena may need dragging every day. At a competition, the arena should be dragged several times per day.
Another factor that influences how frequently an arena needs to be dragged is the type of material used for the footing. Some types of footing resist compaction and need far less dragging than other types. Footing that consists of nothing but sand will compact much faster than footing that has textiles in it, such as GGT footing.
When purchasing the footing for an arena, the costs of grooming should be a factor in the decision. Grooming an arena takes time and it also consumes fuel. A footing that needs to be groomed twice as often will, over time, end up costing quite a bit.
If you are thinking of building or rehabilitating an arena, contact us today.