Dust in arenas is potentially hazardous to both equestrians and horses. How to keep dust down in arena surfaces should be a concern of all equestrian facilities. University equestrian team facilities and horse show venues should be aware of the respiratory health hazards from dust, especially when an audience is present. Exposure from arena dust can cause bronchitis, lung disease, Farmer's lung, asthma and other respiratory conditions. Visitors to the facility who suffer from respiratory problems are especially susceptible to adverse reactions to arena dust. Dust is especially harmful for equestrian trainers and instructors who spend several hours each day in the arena.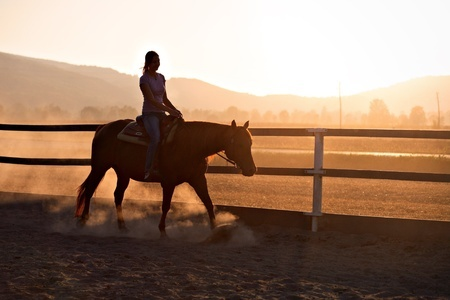 Solutions for Dust Control in the Arena
Dust suppressants, such as water, salts, vegetable oils, mineral oils, and rubber and sand are often used to control arena dust. These dust preventative measures do not offer a permanent solution to the problem and they must be consistently reapplied. The base of the arena should be compacted to prevent airborne dust particles and if you use water to manage dust, make sure it soaks into the arena surface at least 2 inches. Battling dust will always be an issue unless the arena has a quality footing.
The Best Arena Footing for Dust Management
A high quality arena footing provides cushioning to reduce the impact of the horse's hooves and be firm enough for secure traction when jumping and turning. The footing should not be slippery or dusty and be easy to maintain. The type of riding activities in the arena will also have an impact on the best footing for the equestrian facility.
GGT footing offers the best dust management solution, as well as absorbing hoof impact to ensure the safety of horse and rider. The geotextile fabric used in manufacturing GGT arena footing extends the life of your arena by up to 10 years. Its high water absorption and dust reducing qualities makes it an ideal footing for the health of all equestrians. Whether the arena is used for dressage, Western riding or jumping, GGT footing can be blended with other footing materials for just the right arena surface.
Contact us at East-West Arena Construction for a professional consultation about using premium GGT footing to reduce the respiratory health hazards of dust in your equestrian facility.