Hunt seat riding or hunt seat equitation is an English equestrian sport. Like dressage, it's a type of forward seat riding. While folks ride hunt seat for pleasure—it's very popular with horseback riding enthusiasts—hunt seat is best known as a show event. Within the Intercollegiate Horse Show Association (IHSA), as an example, hunt seat equestrians are judged over fences and on the flat.There are many different divisions ranging from beginner to advanced. On the flat, riders are judged at the walk, trot, and canter before advancing through more progressed and difficult gaits like the collected trot and the counter canter depending on what skill level and division they are tested in. When hunt seat is ridden over jumps, the judge keeps an eye towards the rider's ability to accurately traverse a jump course as well as their style and equitation. The jump standards for hunt seat riding range from about 2' to 3' depending on division.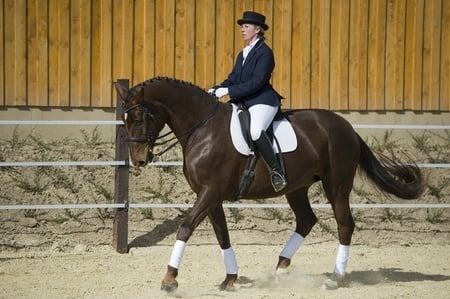 Like all disciplines, premium footing is key to safety and performance
While there are many divisions, rules, and guidelines for hunt seat riding, there isn't a specified arena size; it should provide sufficient space for horse and rider to have enough room to perform to the best of their ability. Most show barns or host facilities don't have stadium-sized arenas to offer competitors so use a standard dressage arena for practice and competition. This size of the arena is large enough to fit the jump standards to the various course patterns, while still allowing plenty of room for flat work. Hunt seat jumps are usually simple and functional, composed of standards & poles made with the traditional muted earthy tones associated with hunter riding—forest greens, barn reds, and cream colors. Ideally, arenas used for hunt seat riding will have quality composite footing for this sort of energetic and high impact type of event for the safety and health of the horse. Plus, composite footing serves to keep the dust down in busy, competitive arenas.
Hunt seat riding is not yet an Olympic event. However, it's where most competitive and professional riders start before advancing into jumper divisions.
To learn more about hunt seating riding and other arena disciplines contact us here.
Free eBook: Guide to Preventing Drainage Problems