If you already have a dressage arena you may be looking to refurbish it, add some updates, or otherwise alter the layout. Or may be looking forward to a new dressage arena layout altogether. If you have never had a dressage arena, some uncertainty about layout is understandable. There's an amazing number of options to choose from in terms of dressage arena layout.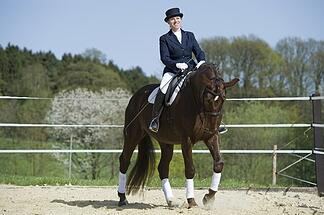 Caption: All dressage arena layouts need to provide for a flow of natural movement. You don't want an arena which lends a cramped feeling.
If you have or want an indoor dressage arena you might think their spaces will remain forever fixed by the arena walls. Never fear. Your dressage arena layout, indoors or out, will be 100% customized to your needs and budget.
Multi-Dimensional. You may stick with the size of your preexisting arena or go larger. Standard dressage arena dimensions are 66' x 198', and small dressage arena dimensions are 66' x 132'. Those are not hard, fixed dimensions or rules.
The Purposeful Arena. Which dressage arena layout best serves your purposes in terms of function and appeal? All dressage arena layouts need to provide for a flow of natural movement. You don't want an arena which lends a cramped feeling, nor do you want one so immense horse and rider seem lost in it.
Minding Your Dressage Business. Consider how much of your daily equestrian activities revolves around dressage in particular? Will you also use the arena for jumping? You may want additional room your dressage arena layout especially if you are hosting events of either discipline.
Event Hosting. If you host events, don't forget to look at the area which surrounds or will surround your arena. Is there enough space for an audience? How close would you like crowds to the rail? Will you need bleachers?
Footing. While we might not think footing is important to dressage arena layout but it needs some consideration. Deep green grass below white rail looks fantastic, but the constant beat of sharp hooves and fast work can really punish turf footing. Sand is a traditional standard but often causes a dusty mess. Composite footing like GGT are a solid compromise between sand and turf for functionality and appearance.
Drainage. We seldom think about ground water in terms of dressage arena layout. Until our arena floods anyway. Drainage is very important to any equestrian arena. Equestrian arenas of any sort needn't turn into hard pan or swamp the instant the weather changes.
Off The Rail. The rail provides a visual aid for horse and rider. A low, or classic rail allows one to easily see the movement of the horse's legs. For those who plan to use the arena for other equestrian activities, a higher rail might prove necessary.
The Lay of the Land. At what point in the dressage arena layout will horse and rider enter the arena in relation to the lay of the land? Are conditions outside the rail favorable to an even flow of movement in and out or do they pose a potential bottle neck and confusion problem? Look for buildings or structures in the immediate vicinity which may impede the way riders enter the arena—especially if you are hosting a show or practice.
Dressage Markers. Markers are, ultimately, the most important part of dressage arena layoutallowing rider, judge, or trainer to know when a movement should be performed. Some like their markers to detach when the arena is in use for other activities. Others prefer permanently attached markers or ones handsomely stenciled on.
Having grown used to your familiar, preexisting dressage arena layout or never having had one on your property, thinking about how you'd like your dressage arena layout to appear may seem complex but that needn't be so. These are just some questions to think about as you prepare for the exciting prospect of a new dressage arena layout and none of them pose insurmountable problems. Nor do you have to ponder alone. East-West Arena Construction understands you want to spend your time with that you know best, your horses.
Whether you need a dressage arena layout designed 100% to your specifications or are giving new life to an old one, contact East-West Arena Construction. We'll walk you through the course and help you make the best decision for you, your horses, and your budget.