Every horse-crazy schoolgirl can tell you about some of the world's most famous horses: the Godolphin Arabian, General Lee's Traveller, Misty of Chincoteague, Man o' War, Alexander the Great's Bucephalus, Secretariat, Napoleon's Marengo. If you're not a horse-crazy schoolgirl, how many of these famous horses do you know?
Bret Hanover (May 19, 1962 – November 21, 1992) was voted Harness Horse of the Year three times: 1964, 1965, 1966. He won 62 of 68 starts.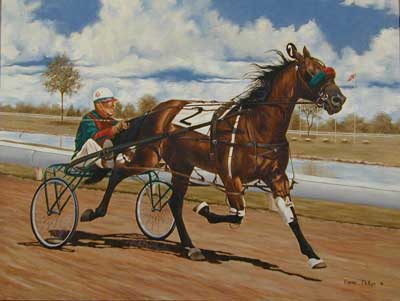 Bucephalus (circa 356 BC - 326 BC) was tamed by Alexander the Great when he was only a boy. Noticing the stallion was scared of his shadow, Alexander turned him so he could not see his shadow and thus was able to calm him. Pliny the Elder mentioned Bucephalus and his loyalty to Alexander. The horse died in India in 326 BC, allegedly of old age, and Alexander named the city of Bucephala after him.
Citation (April 11, 1945 – August 8, 1970) was the first race horse to win one million dollars. He won the 1948 Triple Crown.
Clever Hans (late 19th century - early 20th century) was a German horse who could allegedly add and subtract. Unfortunately, it was discovered that Clever Hans was following subtle clues from his owner and could not actually do math.
Eclipse (1 April 1764 – 26 February 1789) was an undefeated British race horse. He won 18 races before being retired to stud. He was a great-grandson of the Godolphin Arabian.
The Godolphin Arabian (c. 1724 – 1753), was one of three stallions that founded the modern Thoroughbred race horse bloodstock. The majority of 19th to 21st century race horses are descended from him. His fictionalized biography, King of the Wind, has introduced generations of school children to horses.
Man o' War (March 29, 1917 – November 1, 1947) won 20 of 21 races. He was ranked #1 by Blood-Horse Magazine of the top 100 U.S. Thoroughbred champions of the 20th Century, ranked #1 by the Associated Press as the greatest horse of the 20th century, and ranked #1 as the greatest horse in racing history by Sports Illustrated in 1992.
Marengo (c. 1793–1831) was Napoleon's horse. He was wounded in battle 8 times and captured at the Battle of Waterloo. Most of his skeleton is on display at the National Army Museum in London, except for one hoof, which was made into a snuff-box.
Phar Lap (4 October 1926 – 5 April 1932) was born in New Zealand, but trained and raced in Australia. He won 37 of 51 career starts.
Seabiscuit (May 23, 1933 – May 17, 1947) has been the subject of two films, in 1949 and 2003. He was the American Horse of the Year in 1938.
Secretariat (March 30, 1970 – October 4, 1989) won the 1973 Triple Crown. He set records for all three races that remain unbroken today.
Traveller (1857–1871) was Robert E. Lee's horse. He was iron-gray and 16 hands tall.
Trigger (1934 – July 3, 1965) was Roy Rogers' palomino horse. He played Maid Marian's steed in The Adventures of Robin Hood before Roy Rogers bought him. Trigger knew 150 trick cues and was considered the best trained horse in Hollywood.
Whether your horse is famous or not, contact us for customized equestrian footing.