Whether you regularly host horse shows or are developing a practice area, the right jumper footing is especially important. This is because the right footing will help ensure the safety of the horse and rider, while also being attractive and easy to maintain. Here are some tips for choosing jumper footing you should consider for your own arena.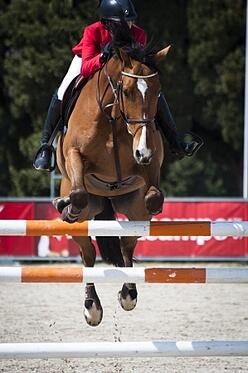 Caption: Footing that provides the right support will be soft enough to cushion the blow when landing, yet not be so heavy that it prohibits animals from galloping.
The blend that is used for jumper footing needs to be the right thickness if it is to be effective. Generally speaking, sand that is around two to three inches thick is ideal for most arenas, because it provides some protective cushioning for horses without being a strain to walk through.
Sand that is two to three inches thick is also much easier to maintain, and will present a more sightly appearance. As such, it will be much easier to drag or rake your arena in order to create a smooth surface and eliminate tracks, and will also make scooping manure easier to do as well. A custom GGT Footing blend is our recommendation.
The right grade is also important in order to prevent water from building up on the surface. In most arenas, a grade of around 18 inches is ideal, as it is just enough to wick water away without creating too much of a slope that would make it difficult for jumpers to maneuver.
If you need help choosing the right jumper footing, contact us. We can help you decide on the perfect footing for your arena, and would welcome the opportunity to serve you.
Free eBook "An Intro to Arena Footing"