When traveling with horses, it is important that you take every precaution to ensure the safety and well-being of your horse. Whether it is a short or long duration trip, advanced planning is critical to a successful trip. Here are some helpful hints from Guidelines for Horse Transport by Road and Air edited by Catherine W. Kohn.
Make sure your horse is healthy before you begin to plan a trip. If the horse is having any health issues, a trip of any length will likely lead to a worsening of these conditions. A visit by the veterinarian should be your first step in planning to travel with your horse. They can ensure that the horse is healthy and ready to travel. If you are planning on traveling between states, the vet will know what blood tests, paper work, and vaccinations will be necessary. You need to keep the horse's health records with you when you travel with your horse.
Along with packing all the hay and grain that you will need for the trip, make sure you also pack a first aid kit, along with any supplements or medications that your horse requires. If you will be transporting your horse a long distance (over three hours), electrolytes, antioxidants and vitamins may help the horse recover faster.
Make sure your horse is used to loading and unloading from the trailer well before your trip. The horse needs to be comfortable wearing protective gear and riding in the trailer. Traveling in a trailer is stressful for horses, and you want to minimize the stress as much as you can. Stress during transport can lead to problems such as diarrhea, colic, dehydration and respiratory disease.
During a long-distance trip, check the horse and offer water every four hours. Experts recommend that horses not be trailered more than 12 hours in one day. If the entire trip is longer than this, then the horse should be unloaded and allowed 8 hours of rest before continuing.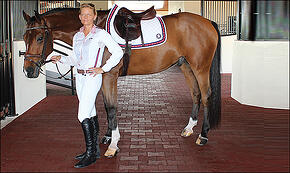 It's important to take precautions when traveling with your horse
When you arrive at your destination, check your horse for injuries and make sure that the horse is bright, alert and responsive. Unload him from the trailer, and walk him for 30 minutes to help him unwind. If the trip was more than six hours, your horse will need at least one whole day to recover.
Traveling to shows and competitions can be rewarding for you and your horse. Taking all the proper precautions will help deliver your horse to your destination in the best condition possible. Contact us and we can show you how to provide the best conditions for your horse at home and on the road.