The Silver Oak Jumper Tournament is scheduled for August 13 through August 17, 2014, here just 28 miles south of Boston. Fieldstone Show Park is the Northeast's premier equestrian facility and they host four weeks of "AA" and 4 star rated USEF competitions every season as well as the largest Hunter and Jumper competitions in the New England Region. Those exciting experiences are held on 106 acres of an all-grass Grand-Prix Field, in a new ring layout, in five all-weather hybrid/felt competition rings, and viewed from new VIP and spectator sections.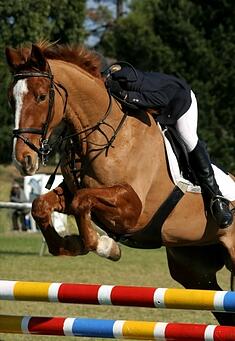 Exciting hunter and jumper competitions will be held on the all-grass Grand-Prix Field, in a new ring layout, and in five all-weather hybrid/felt competition rings.
Last year's inauguration of this tournament with over 7,000 spectators on that Sunday received rave reviews and a top ranking as well as a "fantastic" mention from the North American Riders Group. Given away were neck sashes and ribbons in every class, sterling silver and crystal punch bowls and other awards together with embroidered jackets for the riders and a $5,000.00 Vespa Motor scooter to our champion. $185,000.00 in prize money was topped off by our $75,000.00 Grand Prix. Horses even got free carrots and apples throughout the days, and people got free breakfasts, a lunch, and continuous beverages. Part of this year's tournament entertainment will be an all-new complimentary sunset dinner cruise for the competitors, families and friends. It is scheduled for Friday, August 15, 2014 from 7:00 p.m. to 9:00 p.m. courtesy of the Tournament. Included will be a buffet dinner, a cash bar, and music. The boat will cruise within Plymouth Harbor past historical sites such as Plymouth Rock.
Other professional, junior and amateur events to be held will include the $25,000.00 and $50,000.00 Grand Prix, the $25,000.00 Grand Prix Boston Strong Rider Bonus, and the Massachusetts Hunter Jumper Finals.
For more information and updates about exciting coming events, please visit our website or contact us.