One of the most important elements in the development of horses during training is arena footing. The arena footing often determines performance. And no matter where we live, we have all seen the effects of a rain storm on an arena. This is why it is important to prevent drainage problems in equestrian arena in order to maintain the safety and health of all your horses. Poor drainage systems can lead to slippery, sloppy, and loose footing. The following are some things to consider to help your drainage issues.
It is a good idea to have at least one drain running across your arena, and another drain running around the perimeter. Because the outside track tends to accommodate the majority of the traffic, these perimeter drains are important.
Also keep in mind, that depending on the type of ground your arena consists of, as well as the size of the arena and other factors, it may be necessary to install extra cross drains to ensure proper drainage.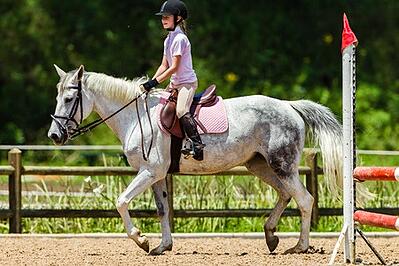 Caption: Ensuring proper drainage in your equestrian arena maintains the safety and health of horses and riders.
Another thing that will help with drainage problems is to ensure your arena has a gentle fall. Most arenas make use of a crown, which is typically placed down the center line, to construct a slope allowing water to drain off the arena properly.
Installing a properly constructed drainage system will help to increase the longevity of your arena, as well as create better riding conditions during various weather.
With East-West Arena Construction, and our premium equestrian footing, complete arena design, start to finish arena construction, and existing arena refurbishes, you'll never have to worry about drainage problems again.
If you have any questions, or would like more information, please contact us at East-West Arena Construction.
Free Checklist: Top 10 Things to Consider Before Construction