It cannot be said that every horseman is concerned about professional arena construction. Take for example, the casual trail rider or the endurance rider-their arenas are either out on the open trail or over hundreds of miles of rough terrain.
However, there is a wide range of competitive equestrian events held throughout the US and around the world where athletes and their equine partners both train and compete in outdoor, covered, and indoor arenas. These horseman, along with horse owners, trainers and handlers are always concerned about the equestrian arena construction and footing.
These athletes are members of various organizations that sponsor year-round competitions. These member-driven organizations need to hold their events in venues that offer top equestrian arenas. The United States Equestrian Federation which organizes horse shows for athletes who want to compete at olympic-levels, need premium arenas.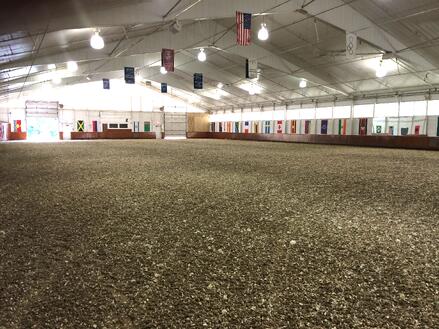 Mount Holyoke College Equestrian Arena. GGT Footing installed by East-West
Other US organizations such as the NCHA, USEA, USDF and AQHA, designed by disciplines and breeds are always searching for venues with the best in professional arenas to hold their events. And the infamous National Horse Show, reaching back to 1883 in New York, is known for frequently choosing new locations to host their annual event.
Athletes want training facilities that offer safe, state-of-the-art arenas and equestrian services. Their equine partners are not only valuable assets to the owners but investments in the rider's time, training and emotional bonds. Participants expect consistency in the ability to train and perform from one arena to another which effects prize money and collected points throughout the year.
As the owner of any venue hosting training and equine events-training barns, boarding facilities, breeding farms or private farms- comes great responsibility to providing these top professional arenas. All these organization promotors and participants are depending on equestrian arena builders to get it right. You must invest in custom arena construction and use premium equestrian footing to get it right.
There is strong competition among venues to get the privilege to host a prestigious equine event or become the home of famous trainers and handlers. As the owner, obtaining the assistance of an expert in equestrian arena design can only help you succeed in knocking out the competition and providing the right venue.
Whether your goal is hosting high level competition events or local pony club horse shows, everyone deserves a safe arena. You know the safety of your customers and success of your business comes from proper management of your arenas.
East-West Arena Construction offers custom arena services and premium equestrian footing. Contact us for equestrian arena consulting and see how we can help you improve on your arenas.